Fulham Cleaners – Providing Cleanliness throughout SW6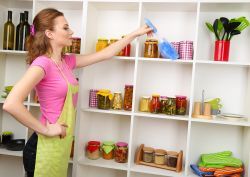 Maintaining a pristine home is a task enjoyed by some, abhorred by most. It is a never ending chore – no matter how much you do one day, the whole process will just start all over again the next. Here at Fulham Cleaners, we can take all the daily domestic cleaning chores out of your hands and put them into those of our trained professionals. Carpets, kitchens, living rooms, bedrooms, laundry, and ironing – whatever you need us to do, we will have a service on offer for you. Our professional Fulham cleaners SW10 can make it so that you won't ever have to lift a finger again when it comes to cleaning your home. All you'll have to do is to open the door, and occasionally put the kettle on. To get a free quote, or to ask any other questions you might have, please do not hesitate to call us on

– our dedicated SW6 cleaning agents are ready and willing to take your call and answer any queries you may have.
We operate primarily within Fulham, 4 miles from the centre of London. Fulham is a wonderful tree-lined district of the capital. It boats a wonderful selection of fine-dining establishments, including Marco's – the restaurant owned and run by celebrity chef Marco Pierre White – and the Harwood Arms, the only pub in London to have a Michelin star. It also the home of Harry Potter star Daniel Radcliffe. It is of course home to the historic football club and current premier league outfit Fulham F.C, but the home ground of global giants Chelsea F.C can also be found in Fulham. It is the aim of our professional Fulham cleaners to help the residents of the SW6 area with any domestic or commercial cleaning needs they may have.
As previously mentioned, cleaning is a task that most of us just cannot be bothered with. For those of you who work 8 hour days and only have the weekends off, it is quite understandable that you don't want to spend your limited spare time scrubbing, washing, dusting and whatever else. You want to spend your free time doing what you want – you've earned it after all. This is where we come in – our dedicated team of SW6 cleaning professionals will come into your home at a time suitable to you and then leave it looking spotless.
Opt for Professional Cleaning Services in Fulham SW6 Today

If you require a cleaner on a regular basis, one our professional Fulham domestic cleaners will come in and do a few hours each week to ensure that when you return home from work your home will be pristine, meaning you can put your feet up and spend the nights and weekends how you wish. If this service sounds right for you, call us now to get a free quote and to book an appointment.
However, maintaining a clean home is not the only reason why you may require a cleaner. If, for example, you've neglected tidying and cleaning your home for quite some time, it should be of no surprise to find that it is a bit dirty, a bit dusty, and a bit grubby. You could spend hours tidying it yourself, or you could save your time and bother and hire out our professional SW6 domestic cleaning service. Although some of just won't have the time to do such a deep clean by ourselves, others may have the time, but just rather not use it cleaning. And this is completely understandable. No one wants to spend a day inside when the sun's out, scrubbing floors and surfaces; and no one's to be stuck inside cleaning when there's something good on the telly. Whatever your reason for not wanting to clean, our team of professional Fulham home cleaners can be the solution to your problem. If you just require a deep clean SW10, we can provide a one-off service for a modest fee. To see if it's right for you, please call us on

.
We also offer a comprehensive end of tenancy cleaning service. If you're renting your property and are planning to move out soon, you'll have to, of course, pack, but you will also have to start to think about cleaning your soon-to-be old property in order to get your security deposit back in its entirety. The most common reason for deductions to security deposits is not damaged, but uncleanliness – remember that you're going to have to leave your property in as good condition as it was found in to get your full security deposit back. Our SW6 end of tenancy cleaning can make sure your landlord has no reason to get in a cleaner. Our professionals know what level of cleanliness landlords are looking for, and, as such, will provide a professional service which means your entire security deposit will be returned.
Choose from the Variety of Cleaners Services We Offer in Fulham
Here at Fulham Cleaners we also offer commercial cleaning services SW10. For a reasonable fee, one of our Fulham office cleaners will come into your office before the working day begins or after it ends and have your office spotless when your employees walk in the door the next day. To see whether our SW6 office cleaning service can accommodate your needs, call us on

.
A carpet cleaning service is also on offer, for domestic or commercial properties. Carpets can be impossible to clean without the right tools; yes, you might be able to scrub a stain out of a carpet, but if carpets are generally dusty, grubby, and worse-for-wear, it is best to leave the cleaning job to the professionals. Our Fulham carpet cleaning professionals are armed with experience and the most modern carpet cleaning tools.
These are just a few of the services that we have to offer, and just a few of the reasons why you might require one of them. To see what else we offer, call us on

. A five-minute phone call could save you a lot of cleaning bother later!