| | |
| --- | --- |
| 08 July 2015 | A Do It Yourself Office Clean |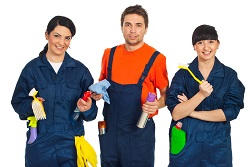 Having a clean workplace is important just like having a clean home. After all you spend a lot of time at work so it is essential to have a cleaning environment to work in for better performances. It is impossible for some large workplaces to keep on top of their office cleaning, without hiring expert cleaners, but with a good rota a small office can manage without. Yes, it doesn't have to take all day and sharing the jobs and having a schedule for each person that works in the office will help share the work load. Here we help small offices keep on top of the office cleaning.
Keep individual areas clean
Cleaning is a chore, but needs to be done. For smaller offices it is a good idea to make each individual clean their own desks, computers and workspace. Ensuring the bin is emptied and the desk and area is regularly polished will make the work area look neat and tidy. For a lot of people they work better when their work station is neat and organised.
Other areas need to be taken care of
Not everyone enjoys cleaning but for smaller firms it is a good idea to share the workload and save some expenses. Have a cleaning kit that all of the staff know about. Always ensure that there are adequate supplies and tools available to cope with the cleaning. Any new members of staff need to be briefed on the additional job of cleaning the office or they are not going to be happy about it just being dropped on them. Explain it is part of the job. Smaller offices and businesses can find it a struggle to have contract cleaning companies and the expense that comes with it. If employees take it in turns or share the cleaning work it needn't be a chore. It helps to have some kind of bonus at the end of a month.
Hold a meeting regularly to explain of any changes or the need for additional jobs to be done. Have a timetable and share the duties. On days that are less busy or the last hour of the working day should be enough for small offices to be cleaned. Communal areas such as reception, bathroom and kitchens will need to be taken care of. Regular vacuuming, emptying bins and the cleaning of toilets and kitchen areas are important to give a good impression to any visitors.
For a small kitchen area make sure all who use it clean as they go. Place signs and stress that any washing up needs to be done and put away and the sink cleared down. A fridge, tables, chairs and microwaves all need to be cleaned.
Though it is an additional job to the daily workload it is only worthwhile if you are a small office. As a manager you could make an added incentive with an occasional monthly gift or meal out. There are lots of ways you can pay back for the extra job, wine, chocolates, flowers or a free dinner. It isn't always the best option but if the area is small and everyone in it takes their responsibility it should be relatively easy to have a clean environment to work in and be productive. There is nothing nicer than a fresh smelling polished reception, and maybe a coffee machine giving the aroma of filter coffee.
You may also like:
23 January 2015
Make Your Oven Sparkle
The oven is quite an essential element in any kitchen. It is, after all,...
→